Best 3D Printing Software for Beginners in 2023
As Easy as Riding a Bike! If You Know How to Ride a Bicycle, that Is.

*Snap* *Snap* …? Ok, Plan B.
Operating a 3D printer isn't as easy and quick as snapping your fingers, unfortunately. That does not mean, however, that it is difficult. As with pretty much every aspect of owning and using this machine, the best 3D printing software can depend on each user just as the best printer, resin and model positioning for them. With that in mind, this article will list half a dozen of the most currently used and their main advantages and disadvantages. It's not an exhaustive list, but it's a good start. It can be as simple – and cheap – as you want it to be. A quick disclaimer: as with most of our tips and guides for 3D printers, we're mostly referring to those that use SLA technology, also known as resin printers. We're not talking about FDM (or filament) printers. Yet.
Chitubox
Arguably the most popular program for resin printers nowadays, mainly due to its stability, reliability and relative ease of use. It does have a paid version that adds special features and allows fine-tuning for more advanced users. Its free version, however, should be more than enough for beginners and is compatible with all the more popular printers in the market. It even has additions that help with the ease of use, such as the auto-support feature.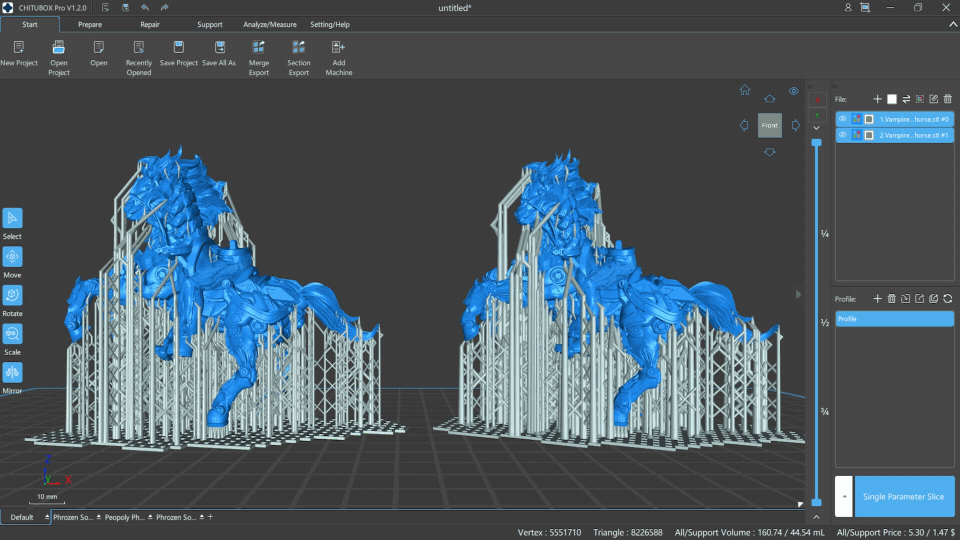 Prusa Slicer
This one can also be found under the names Slic3r PE or Slic3r Prusa Edition. It is algo geared towards a simpler User Interface (UI) and has useful features such as automatic support generation and part hollowing. While it was originally made for their own brand of printers, this software is still compatible with most of the well-known ones and is completely free, which explains its popularity. It is not also exclusive to resin printers, as it also works with some that use filaments.
Formware
The only option on this list that does not offer a free alternative (although the software has a 30-day free trial). After you've dipped your toes (the whole leg, really) into other simpler programs, this is a good exercise on some of the things that can be done with slicers, albeit some of the extra features fall outside the area of printing miniatures. Think dental prosthetics or jewelry.
Anycubic Photon Workshop
This one has received its praises and aims to provide a straightforward user-experience, with those automatic support generation and part hollowing functions. The main downside is hinted in its name: the software is only compatible with the Anycubic Photon series of printers.
Lychee Slicer
3rd-party software that's compatible with most available modern printer models. Besides the staple features, the process for printing gets streamlined with their unique "Magic Menu" tool, that also deals with orientation, optimization and rafts. If you're willing to deal with a metric ton of advertisements, the software's free version will satisfy most beginner-intermediate needs. They also offer a Pro ($) and Premium ($$) version.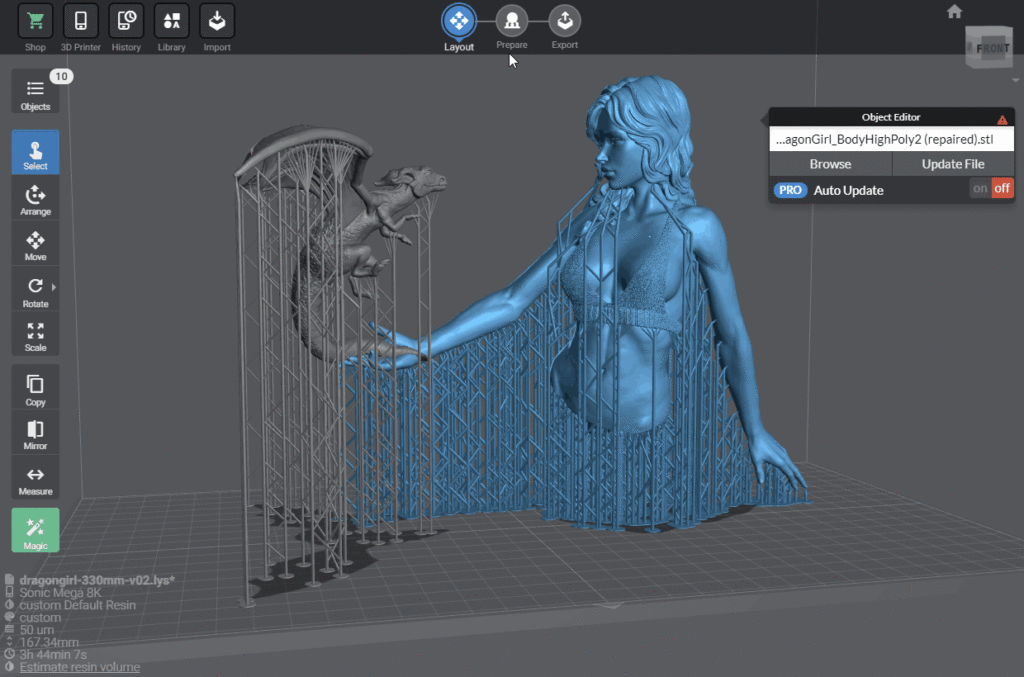 PreForm
Finally, if you're looking for ease of use, this program by Formlabs has its main selling point on the "One Click" printing setup. If you wish to delve deeper into PreForm's functionalities, you may find its resources comparable to that of the free version of CHITUBOX – that being said as a compliment!
Bottom Line
This list obviously wouldn't do justice to the amount of work that went into the development of each software and simply aims to provide a starting point to your printing journey. Independently of your choice, all these softwares simplify some parts of 3D printing. This helps you to master a variable at once – soon enough the process of churning miniatures will become second nature. As you get accustomed to them, other tweaks might be wanted for your experience with printers. Why don't you also have a look of some suggested accessories for your 3D printers?
Loot Studios can help you print highly detailed minis, statues and props. Choose your favorite bundle from our previous releases or sign up for Fantasy or Sci-Fi to receive a new bundle every month. You can also check out some tips at our YouTube Channel.